Download your printable one-page guide.
EOS
cu
Quick Facts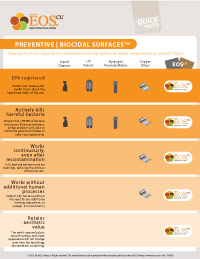 Download your quick reference guide Components of a Preventive|Biocidal SurfaceTM to learn more.
Use it for:
Presentations to staff and colleagues looking for infection control solutions,
Explanations to family, friends, and others who care about healthcare safety, and
Share on social media to get the word out about innovative technologies.
A little information goes a long way!